Dry Cleaning/​Laundry Service*
Express Check-in and Check-Out
Triumphantly revitalized hotel cradled in a UNESCO world heritage site
Embark on a sojourn through the richness of New Town with a stay at Kimpton Charlotte Square. Comprised of seven inter-connecting Georgian townhouses which have just undergone a multi-million restoration, the hotel is the ideal place to begin your Scotland discovery. Equipped with an attentive staff and signature amenities such as the red bedside telephone, tuck box, and vintage post box, Principal is ready to welcome you for an unforgettable stay.
Enjoy views of one of Edinburgh's most beautiful private garden squares or slip down to the glass-roofed internal courtyard where you can indulge in lush surrounding while sampling the gastronomy of BABA's innovative menu. Each of the attentively furnished rooms provide the comfort of home with the added bonus of Scottish luxury and hospitality. 
Kimpton Charlotte Square
38 Charlotte Square
EH2 4HQ, Edinburgh, Scotland

Please note that some amenities may be restricted or unavailable due to local ordinances or sanitary best practices.
Kimpton Charlotte Square
Triumphantly revitalized hotel cradled in a UNESCO world heritage site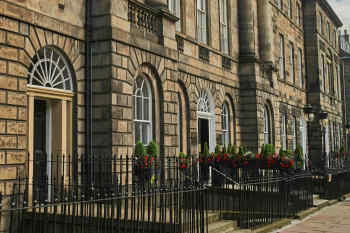 Start over
On a full map