Relaxing Retreat in the Heart of the City
Relax and unwind at The Macdonald Holyrood Hotel, nestled right in the heart of historic Edinburgh. After a busy day of sightseeing in the bustling city, you will find yourself only steps away from the comfort and elegance that this hotel provides. Kick off your shoes and climb into your large, comfortable bed, or stay up planning your next day, sitting in cozy armchairs and using the hotel's complimentary Wi-Fi. All 156 guestrooms are furnished to the highest standard, featuring triple-glazed windows and boasting marble bathrooms, creating a quiet, peaceful sanctuary in the middle of center city.
When it's time to eat, indulge in a delicious, classically Scottish meal at Acanthus, The Macdonald Holyrood Hotel's award-winning restaurant that creates a perfect environment, as it sits just across from Scottish Parliament and overlooks Arthur's Seat. By selecting only the finest, freshest ingredients that are locally sourced where possible, Acanthus is one of the most exciting new restaurants in Edinburgh. There, you will be treated to a sensational experience of specialty cocktails, delicious teas, and a scrumptious breakfast, lunch, or dinner that captures the taste of Scotland.
Pamper yourself at the hotel's Leisure Club and Spa, which offers a perfect retreat from the liveliness of Scotland's capital city.  Find serenity in a variety of luxurious spa treatments, take a swim in the 45-foot headed swimming pool, or work out all of your stresses in the state of the art Technogym. 
Macdonald Holyrood Hotel
Relaxing Retreat in the Heart of the City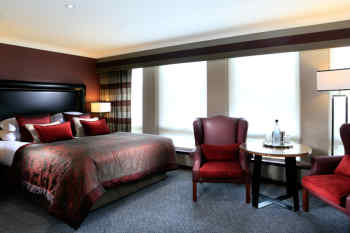 Start over
On a full map