Internet Access (Free Wi-Fi, Dial-Up)
Relax in jazzy lodgings among the best shopping and cuisine
Enjoy the lively and modern decour during your stay at the Grassmarket Hotel. Rooms come equipped with TVs, iPod docks, wall-sized magnetic maps, free Wi-Fi, and private bathrooms featuring rainfall showers. This newly renovated hotel sitting comfortable within distance of Waverley Train Station and the Royal Mile.
Pubs, bars, clubs, restaurants, and plenty of opportunities for excellent shopping are all within walking distance of your hotel, as well as all of the shops of Princes Street. Old Town exploration and history make the area unique, just like its lodgings.
Grassmarket Hotel
94-96 Grassmarket
EH1 2JR, Edinburgh, Scotland

Please note that some amenities may be restricted or unavailable due to local ordinances or sanitary best practices.
Grassmarket Hotel
Relax in jazzy lodgings among the best shopping and cuisine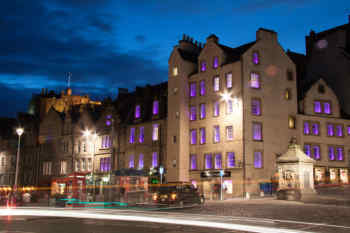 Start over
On a full map