The Clermont, Victoria (formerly The Amba Hotel Grosvenor)
Express Check-in and Check-Out
Stay right by Buckingham Palace for a truly luxurious stay
Unwind in the luxury of The Grosvenor Hotel during your stay in London. Just a half mile from Buckingham Palace, this excellent 4-star hotel maintains the elegance the palace does, offering free Wi-Fi, world-class cuisine served at the on-site restaurant, lovely cocktails available at the bar, afternoon tea served in the lounge, 24-hour room service, a concierge, and a fitness center all set among plush period decour and the atmosphere of old world elegance.
Rooms are quiet and spacious, boasting air conditioning, Egyptian cotton bed linens, a desk, a LCD TV, an iPod docking station a safe, ironing facilities, coffee and tea making facilities, complimentary bottled water, and private bathrooms complete with a hairdryer and complimentary toiletries. Next to Victoria Station, a mile away from the Houses of Parliament, and just a 15-minute walk from Westminster Abbey, this hotel is in a lovely spot to indulge in an opulent lifestyle, including shopping opportunities, learning the history of the area, and strolling through parks.
The Clermont, Victoria (formerly The Amba Hotel Grosvenor)
101 Buckingham Palace Road
SW1W 0SJ, London, England

Please note that some amenities may be restricted or unavailable due to local ordinances or sanitary best practices.
The Clermont, Victoria (formerly The Amba Hotel Grosvenor)
Stay right by Buckingham Palace for a truly luxurious stay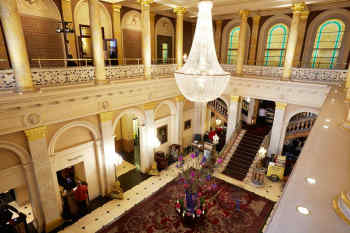 Start over
On a full map