Childcare/​Babysitting Services
Dry Cleaning/​Laundry Service
Enjoy views of the lovely Russell Square from the hotel cafe
Set in what may be the most beautiful square in London, the President Hotel enjoys views of Russell Square as well as easy access to the London Underground, which is only minutes away. Guests can enjoy services and amenities such as a restaurant, a bar, a cafe, room service, free Wi-Fi, a full English breakfast, a concierge, and private parking.
Rooms are comfortable and include a TV with cable channels, a phone, free Wi-Fi, ironing facilities upon request, coffee and tea making facilities, and private bathrooms including a hairdryer. Explore the surrounding area with history, culture, and landmarks found around every corner, and the British Museum within walking distance.
President Hotel London
56-60 Guildford Street
London, England

Please note that some amenities may be restricted or unavailable due to local ordinances or sanitary best practices.
President Hotel London
Enjoy views of the lovely Russell Square from the hotel cafe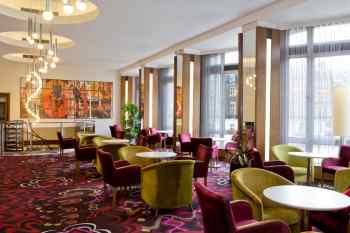 Start over
On a full map