Comfort and Elegance in Edinburgh's Old Town
Experience the true history, beauty, and culture of Edinburgh at the centrally positioned Jurys Inn. Located just off the famous Royal Mile, you'll be right in the center of Edinburgh's Old Town. In just steps, find yourself at Holyrood Park, Princes Street Gardens, or the Edinburgh Castle! Head back to the hotel and recharge at the all-day Costa Coffee Bar, perfect for curling up and relaxing with a good book.
Unwind with a drink at the hotel's stylish on-site bar, then head to the contemporary restaurant and indulge in a mouthwatering meal. After an exciting day, close the door to your room and escape to a state of peace and tranquility. You'll completely forget that a bustling city exists right outside. Relax in your large soft bed, catch up on your favorite TV shows, and use the hotel's free WiFi to plan your next day of adventure. If you happen to crave a midnight snack, don't worry - room service will be at your door in just minutes. 
Jurys Inn Edinburgh
Comfort and Elegance in Edinburgh's Old Town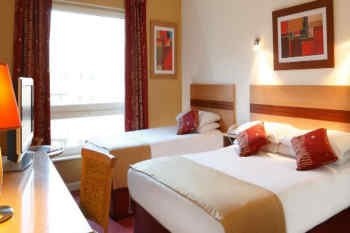 Start over
On a full map