A Charming Residence With a Flare of 1930s Glamour
Step into this haven of serenity and greenery and forget that a bustling city exists right outside its doors. Admire this hotel's stylish decor that boasts 1930s Art Deco glamour and elegance! Explore the historic Marais district and be sure to check out its chic boutiques, charming restaurants, and breathtaking art galleries. In just minutes, find yourself at beautiful historical sights such as the Place des Vosges, Paris city hall, and the Place de la Bastille. Hop on the nearby Metro and head to the Louvre, the Eiffel Tower, and other quintessentially Parisian landmarks!
After an exciting day, head back to the hotel and relax on the hotel's private garden patio, which is one of the largest in Paris! Work all your stresses away in the fitness center, unwind in the sauna, and pamper yourself with a peaceful spa treatment. Share laughs over delicious drinks at the hotel bar before you head up to your room for a good night's sleep. 
Close the door of your room behind you and fall into a state of tranquility. Kick off your shoes, climb into your large comfortable bed, and enjoy the soundproofed quiet of your air conditioned room. 
Les Jardins du Marais
74 Rue Amelot
75011, Paris, France

Les Jardins du Marais
A Charming Residence With a Flare of 1930s Glamour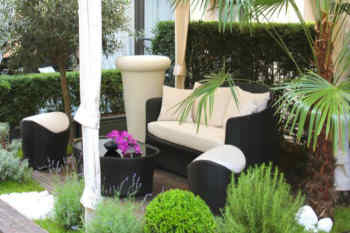 Start over
On a full map