Dry Cleaning/​Laundry Service
Internet Access (Free Wi-Fi, Dial-Up)
Charming Victorian Style Meets Modern Luxury
Immerse yourself in the rich history and artistic culture of London at this charming, Victorian-style boutique hotel.  Enjoy the hotel's contemporary, yet unique style, as you may find brick or original Roman mosaic accents throughout the interior. The Caesar is nestled right on the quiet residential Queen's Gardens street, within walking distance to Hyde Park, Kensington Palace, Oxford Street, Notting Hill, and much more! Take a stroll through this popular area, check out its abundance of shops and cafes, and admire its beautiful Victorian streets and intertwined areas of greenery. 
Back at The Caesar, fall into a state of peace and tranquility as you enjoy stunning views of Queens Gardens from the hotel's stylish interior. Work all your stresses away in the on-site gym, relax in the sauna, or unwind with a refreshing cocktail at the XO Bar. When it's time to eat, head to the on-site restaurant and indulge in a variety of mouthwatering dishes - from Spanish tapas to homemade burgers.
Escape the bustle of the city and relax in your quiet, spacious room. Climb into your large, comfortable bed, catch up on your favorite TV show, or use the hotel's free WiFi to plan your next day of adventure. Crave a midnight snack? Not to worry - room service will be there for you all hours of the day or night. Enjoy this warm, cozy atmosphere and take advantage of its luxurious, modern amenities. 
The Caesar Hotel
Charming Victorian Style Meets Modern Luxury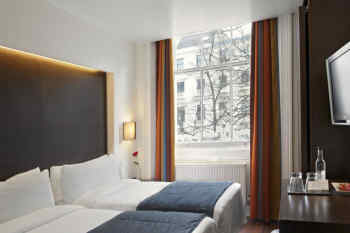 Start over
On a full map