The Bailey's Hotel London
Childcare/​Babysitting Services
Palace-Like Elegance Meets Luxurious Comfort
Experience the true elegance and luxury of London at The Bailey's Hotel. Located within walking distance to Hyde Park, Harrod's, and Buckingham Palace, you'll be just steps away from tons of famous sights and attractions. If you want to give your legs a rest, feel like a native and hop on the Tube at the nearby Knightsbridge Station.
Back at the hotel, admire its tasteful decor that combines traditional Victorian elegance with modern trendiness. You might want to partake in Afternoon Tea at this beautiful venue! When it's time to eat, indulge in mouthwatering Italian cuisine at the wonderful on-site Olives Restaurant. If you're in the mood for something a little spicier, head to Bombay Brasserie, the luxurious on-site Indian restaurant. After dinner, unwind with a cocktail at the classy yet casual Olives Bar.
Return to your quiet, spacious room and cozy up in your large comfortable bed. Take advantage of your room's luxurious amenities such as bathrobes, slippers, a refrigerator, and complimentary WiFi. 
The Bailey's Hotel London
Palace-Like Elegance Meets Luxurious Comfort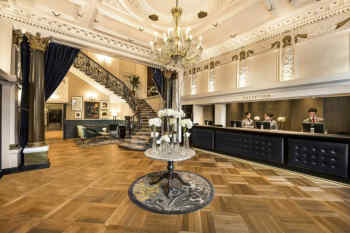 Start over
On a full map